Making the Office Work Better for All
Sheriff Idleburg has successfully worked towards increasing the community's trust while being responsive to the expectations of law enforcement during a critical time in our country.
Increasing transparency, accessibility, responsive to the needs of the community and progress has been a hallmark of Sheriff Idleburg's first term. There is more work to be done, and with your help we can continue to build a more compassionate and community oriented sheriff's office.
Under Sheriff Idleburg's leadership, the Lake County Sheriff's Office was one of the first law enforcement agencies in the region and state to implement a duty to intervene before it was legally required under the SAFE-T Act. Duty to intervene requires law enforcement to take action when they witness another law enforcement officer applying excessive force upon another individual.
Sheriff Idleburg has dedicated resources to aggressively pursue trafficking in all its forms (guns, human, drugs) to keep our community safe. As a result, Sheriff Idleburg's Special Investigations Group has set new records in 2020 seizing nearly $3 million worth of illegal drugs and 55 illegally possessed firearms which resulted in a total of 350 felony charges.
Sheriff Idleburg's commitment to public safety has enabled an increased partnership with federal agencies for added support through the specially designated program for counties that have showed significant work in the disruption and dismantling of organized crime, conducting long-term investigations focused on drug trafficking.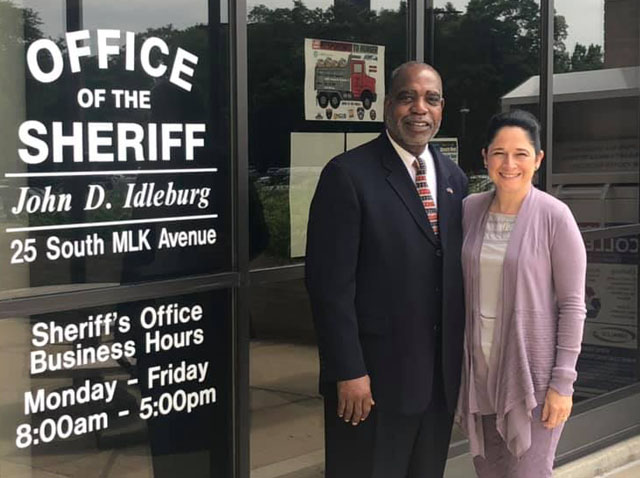 Looking Out for Our Personnel
The Sheriff's Office has 8 collective bargaining units and when John Idleburg was sworn in, all 8 had expired contracts and it had been years since contracts expired with no end in sight. In two years, Sheriff was able to negotiate and settle the outstanding contracts and developed strong collaborative relationships with the unions that represent over half of the LCSO employees.
Sheriff Idleburg respects the rights of collective bargaining units and the union members they represent. Sheriff has and will always, in good faith, work with unions to resolve challenges collaboratively and ensure their collective bargaining rights are respected.